Using these gorgeous aventurine beads you can de-stress or make jewellery, the pretty beads have been tumbled so feel smooth to touch. Due to the calming tranquil colour of these aventurine beads they could have a soothing effect on you, with each bead a slightly different shape to the last. It is widely believed that aventurine crystal brings harmony and balance into lives, both to groups and individual lives. These aventurine beads are provided on a temporary 16″ string, ready for use.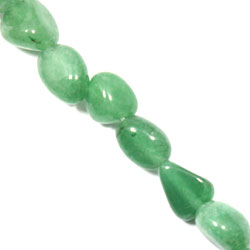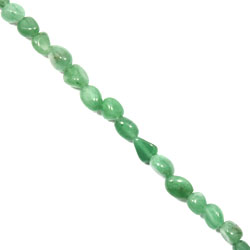 Aventurine Beads Attributes
Crystal healers say that aventurine crystal is a very positive stone, with a strong connection to the devic kingdom which is a realm where devas or elementals are thought to reside. It is also believed that by wearing aventurine beads absorbs electromagnetic smog, protecting against environmental pollution. If you tape some aventurine to a mobile phone, it is said to protect you from the emanations. In addition to these great attributes, aventurine is also said to turn negative situations around, diffusing negativity.


Aventurine Beads Healing
As many people use crystals for healing, you might like to know the healing qualities of aventurine and how using aventurine beads can help you. It is said that aventurine helps the thymus gland, connective tissue and the nervous system, balancing the blood pressure and stimulating metabolism. It has also been claimed that aventurine can prevent arteriosclerosis and heart attacks, making it well worth while testing out for yourself. Migraine headaches, eyes and the skin could also be helped by using aventurine as well as the lungs, adrenals, sinuses, heart, muscular and urogenital systems.