Birthdays are the ideal time to buy Birthstone Bracelets, these pretty crystal bracelets are believed to portray the characteristics of each Zodiac sign. Each crystal used in Birthstone Bracelets has been chosen according to their Zodiac alignment and beauty. Birthstone Bracelets can be worn for special occasions or as part of everyday wear, they will brighten up your outfit nicely too as an added bonus.


Turquoise Howlite Scorpio Birthstone Bracelets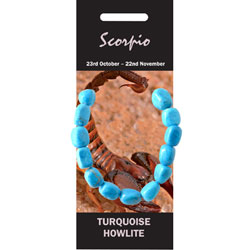 An enchanting gift for a Scorpio is this pretty Turquoise Howlite Scorpio Birthstone Bracelet. The Turquoise Howlite Scorpio Birthstone Bracelet has properties perfectly suited to Scorpios, entailing inquisitiveness, analytical and charismatic characters. The turquoise howlite crystal is thought to encourage knowledge and progress, as well as to relieve pain, confusion and stress. The bright and beautiful colour of this Turquoise Howlite Scorpio Birthstone Bracelet makes it a great gift.
Scorpio Birth Dates: October 23rd – November 21st
Red Goldstone Leo Birthstone Bracelets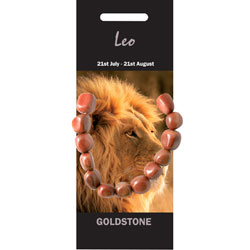 This warm coloured Red Goldstone Leo Birthstone Bracelet is attuned to the Leo star sign in every way. Leo's are said to be hard workers, enthusiastic, extroverted and ambitious. The Red Goldstone Leo Birthstone Bracelet is associated with wealth, health and abundance which all help to reward adventurous Leo's. The pretty Red Goldstone crystal is flecked with glittering copper and will brighten up any outfit.
Leo Birth Dates: July 23rd – August 22nd
Sodalite Sagittarius Birthstone Bracelets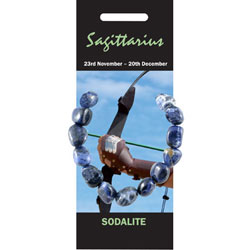 This beautiful Sodalite Sagittarius Birthstone Bracelet is ideal for Sagittarians who are said to be clever, creative, compassionate and generous. The properties of Sodalite are perfectly aligned with the characteristics and requirements of Sagittarians. The Sodalite crystal is believed to aid the balance, intellect and emotional sides of Sagittarians, helping with communication.
Sagittarius Birth Dates: November 22nd – December 19th