Impressive and beautiful, the Blue Lace Agate Crystal is so named due to the seemingly threads of lace which run throughout the blue of the agate. Many people use Blue Lace Agate for healing and to bring peace of mind, it is also believed to help free expression of thoughts and feelings to be released. Blue Lace Agate is said to be very good for neutralizing anger, infection, inflammation and fever. The healing benefits of Blue Lace Agate are believed to reach far, counteracting blocked self-expression, releasing shoulder and neck problems, thyroid deficiencies, throat and lymph infections. Fractures are also said to be healed with the strengthening skeletal and treatment of arthritic and bone deformity that Blue Lace Agate are believed to help. There are various forms you can enjoy Blue Lace Agate including jewellery, crystal spheres and crystal hearts.


Blue Lace Agate Heart Pendant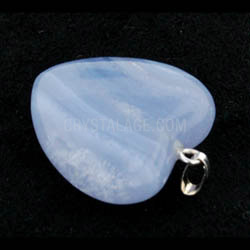 The soft beautiful cool Blue Lace Agate Heart Pendant is believed to give courage and strength to those who use it, allowing people to see through lies in order to discover the truth. Blue Lace Agate is also thought to be able to relieve pain from sprains and bruising. Colour wise this beautiful Blue Lace Agate Heart Pendant is a fresh and wondrous sky blue and cloudy white combination, with which the silver fixing looks fantastic.