It's nice to treat your nearest and dearest now and again, Valentines Day is the perfect occasion to do this rekindling or keeping that love inside as powerful as ever. There are many Crystal Heart Necklaces which make truly sweet gifts from one person to another. Crystal Heart Necklaces are available in a variety of gemstones, each with different colours and attributes associated with it. Whether you are buying Crystal Heart Necklaces for the benefits they are thought to bring, or simply because they look incredibly beautiful you will not be disappointed.


'Peace' Crystal Heart Necklace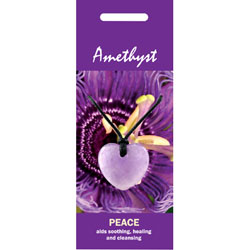 This lovely Peace Heart Necklace is a charming gift for a loved one around Valentines Day, their birthday or any other special occasion. It's possible to change the length of the Necklace too, thanks to a useful adjustable thong. The keyword for this pretty Peace Crystal Heart Necklace neatly summarises the key properties of the crystal which in this case is Amethyst. Many believe that by wearing crystals that the energy from them can be transferred to a person, healing and energising them which makes this Peace Crystal Heart Necklace that extra bit special.


'Joy' Crystal Heart Necklace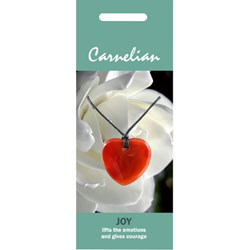 Share the vibrancy and happiness with your loved one that this sweet Joy Crystal Heart Necklace is thought to bring, either Valentines Day or for her birthday. If your sweetheart is a Leo, Cancer, Taurus or Virgo then this Joy Crystal Heart Necklace is particularly ideal. The Joy Crystal Heart Necklace is a Carnelian which is believed to lift spirits and to give courage.


'Prosperity' Crystal Heart Necklace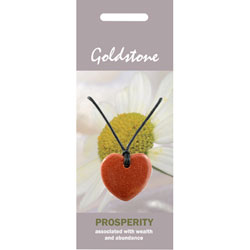 Another warm coloured gorgeous crystal heart to consider is this sweet Prosperity Crystal Heart Necklace, associated with the solar plexus part of the body. The Prosperity Crystal Heart Necklace is great for Leo's as the Goldstone crystal is their birthstone. Goldstone is a stunning glittering crystal which is strongly linked with support, ideal for those who find life difficult to manage at times.