An interesting fact about Hematite is that the name derives from the Greek word for 'blood', this is a reference to the colour of the mineral in powdered form. The Hematite Crystal is rare, forming in tabular when they do occur and occasionally as rosettes. It is widely believed by crystal healers that the Hematite Stone is the most effective stone for grounding the body and the physical World, thought to counteract confusion. For healing, it is believed that Hematite Stone is great for energetic support of recovery from any ailment of the blood and blood production within bone marrow. Hematite is also thought to strengthen the liver and assist detoxification. Appearance wise the Hematite Stone has an attractive silver sheen to it, beautifully reflective in the light which is why it is often used in jewellery.


Hematite Stone Gem Chip Bracelet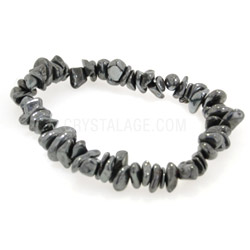 This shiny Hematite Stone Gem Chip Bracelet quickly brightens any look, with the spectacular reflective shine throughout it. Each of the gemstone chips on the Hematite Stone Bracelet vary in size and are said to give the ability to survive. Many people wear these Hematite Gemstone Chip Bracelets to help root spiritual energy and bring themselves back to the here and now. Wearing the Hematite Gemstone Chip Bracelet is very comfortable thanks to the flexible elastic which the chip have been threaded onto. The birth signs associated with the Hematite Stone are Aquarius and Aries, so makes a particularly lovely gift for them their birthday or other occasion.


Willpower Hematite Stone Bracelet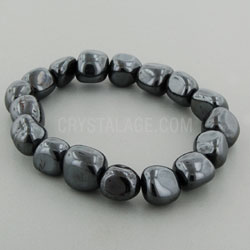 Perhaps you need willpower to give up smoking, to save money or tidy up the house, whatever the reason perhaps this stunning Willpower Hematite Bracelet will help you out. The Hematite stone is believed to protect and strengthen willpower, wearing it is said to increase determination and keep us grounded. You can hold this pretty Willpower Hematite Bracelet whilst meditating or crystal healing, or of course wear it to enjoy its properties.