The stunning vivid Hemimorphite Healing Crystal is believed to be a protective stone, against malicious thoughts and manipulation. Ancient times saw the Hemimorphite Healing Crystal as counteraction for poisons. With the Hemimorphite Healing Crystal self development is promoted, insisting on personal accountability by teaching that we are responsible for our happiness or sadness, that reality is created through thoughts and attitudes. Psychologically it is said that the Hemimorphite Healing Crystal shows how to develop inner strength and help you reach your highest potential, whilst maintaining awareness of being part of humanity. In an emotional sense, the Hemimorphite Healing Crystal is thought to support you in regaining full health on all levels, helping to set realistic goals and to prevent you being emotionally attached to the outcome of these goals.
Healing With The Hemimorphite Crystal
Crystal healers believe that the Hemimorphite Crystal has many healing benefits to it, here are the areas it is said to help with.
• Weight Loss
• Pain Relief
• Heart Cellular Memory
• Blood Disorders
• Genital Herpes
• Warts
• Cellular Structures
• Ulcerative Conditions
• Burns
• Hormonal Imbalances
• Restless Legs
Hemimorphite Healing Crystal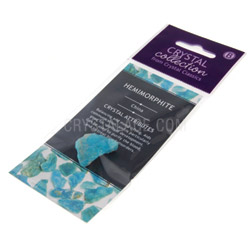 The mesmerising Hemimorphite Healing Crystal comes from China and has strong Buddha energy associated with it. It is said that the Hemimorphite Healing Crystal is useful for chakra healing and spiritual development, meaning it makes an excellent addition to any crystal collection. The Hemimorphite Healing Crystal is the birthstone for Libra, so any form of Hemimorphite makes a great birthday gift for those born between September 23rd to October 22nd. These small samples of Hemimorphite Healing Crystal are great for budding children who want to learn more about the science of crystals and minerals.