A beautiful stone to have around the home or on your person is Opalite Crystal, synthetic opalised glass and various simulants. Opalite Crystal was mined in former Czechoslovakia as long ago as the fourteenth century. There are many types of Opalite Crystal, coming in a variety of colours which all have varying qualities to them. The Opalite Crystal is meant to be great for helping faithful relationships last and is often called a stone of love. People who need a gentle soothing from high levels of stress can also use Opalite Crystal or any strain of Opal Crystal to help. It is believed that if you sleep with pink opal or simply hold it during a past-life regression, it helps to resolve painful remembrances with gentleness and compassion for oneself.


Opalite Crystal Palm Stone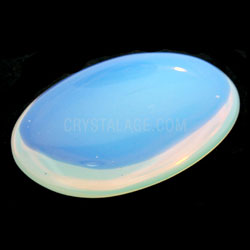 This gorgeous Opalite Palm Stone promotes a calm and focused mind, it is believed that it can also facilitate contemplative prayer and meditation by allowing you to step back and observe the mind. The Opalite Palm Stone is a great one for students as it is thought to assist the retention of knowledge which always comes in handy. If you suffer from a chronic cough due to asthma, lung damage or allergies have eczema or psoriasis then the blue opal is believed to help relieve symptoms.


Opalite Crystal Thumb Stone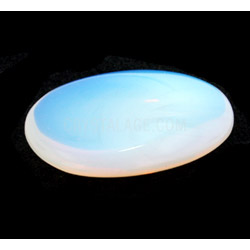 Try holding this tranquil Opalite Thumb Stone to reduce stress and enjoy the soothing energy that it is believed to hold. Each Opalite Thumb Stone has been highly polished to a beautifully smooth finish and is the ideal size to carry around with you wherever you go. If you are a faithful lover then this Opalite Thumb Stone is thought to bring you happiness in your loving relationship, it is also recommended for depression and achieving inner peace. The gorgeous light blue, pink and white tones in this Opalite Thumb Stone glow immaculately in the light, so using it for decoration around the home perhaps with a collection of other thumb stones is another way you can change your environment.


Small Opalite Crystal Angel Pendant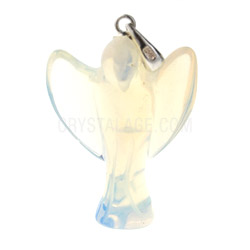 Wearing this sweet Small Opalite Angel Pendant you can quickly brighten up your look, enjoying all the natural beauties of the love stone Opalite. This Small Opalite Angel Pendant is said to help us to keep in contact with our guardian angels, protecting us from negative influences. Valentines Day, Birthdays and Anniversaries are just a few of the occasions that a Small Opalite Angel Pendant makes an appropriate gift.