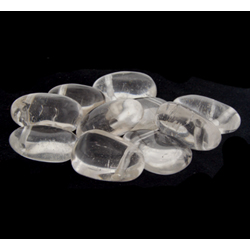 The highly popular Quartz Crystal is sourced from all around the World and is naturally transparent, milky or striated. Due to the unique helical spiral crystalline form, Quartz is considered by crystal experts to be the most powerful healing and energy amplifier on the planet. In acupuncture it is said that when the needles are coated in Quartz the effect is increased by 10%. With the Quartz Drilled Tumble Stone, the pre-drilled holes mean that you can thread through a cord or chain and wear them as a necklace, pendant or bracelet. You can also use the Quartz Drilled Tumble Stone in home furnishing and attach them onto bags and other accessories. It is believed that carrying the Quartz Drilled Tumble Stone you can help to clarify, improve memory, focus and connect the body and mind.


Quartz Gemstone Chip Bracelet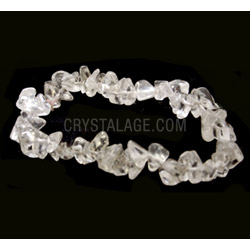 Wearing this pretty Quartz Gemstone Chip Bracelet you can easily brighten your look, allowing the believed attributes of Quartz to assist you through life. Quartz is a cleansing and healing crystal, it is thought to be very helpful in channelling energy and releasing blockages. Each Quartz Gemstone Chip Bracelet has pretty quartz chips strung onto an elasticised band which feels comfortable on the wrist and looks amazing too.


Quartz Thumb Stone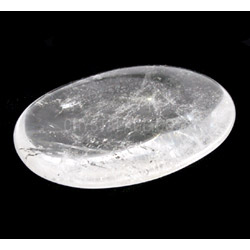 By holding this beautiful Quartz Thumb Stone, it is believed that stress can be relieved and energy harnessed. Quartz is the birth sign for Aquarius, so the Quartz Thumb Stone makes an excellent birthday gift for any Aquarian. When you hold a Quartz Thumb Stone in your hand, this is said to double your bio-magnetic field, it is also said to generate electromagnetism and dispel static electricity.