The pink colour of rhodochrosite crystal makes it one of the most attractive healing crystals but it is also one of the most positive stones. This crystal has a wide range of healing attributes and it is a wonderful crystal to have in your home or wear as jewellery. Here at Crystal Age we have a great choice of rhodochrosite crystals including healing stones, beads and a wide range of rhodochrosite jewellery.
Rhodochrosite Healing Crystals
You can use rhodochrosite healing crystals for a wide range of healing applications including laying crystals on the skin and meditation or simply placing them around your home. Rhodochrosite is strongly aligned with the heart chakra, Anahata. It is believed to improve almost every part of your physical and emotional wellbeing and is very versatile. On an emotional level, rhodochrosite is believed to encourage love and compassion for all beings. It is a very optimistic crystal and has a mood lifting effect. Rhodochrosite is said to help us express our feelings in relationships and friendships, as well as encouraging selfless behaviour. On a physical level it is believed to boost overall good health. It is particularly recommended for conditions of the respiratory system and heart. Rhodochrosite is often used to treat high blood pressure, poor circulation and asthma.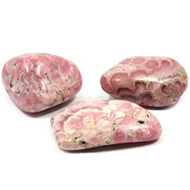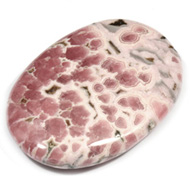 Rhodochrosite Crystal Jewellery
Wearing rhodochrosite jewellery is a great way to benefit from its healing powers. And of course it is a very beautiful stone, so it makes wonderful jewellery and gifts. We have a great choice of rhodochrosite crystal jewellery including the three pieces seen below. Please click through to see our full range.