Make somebody feel really special this year by treating them to one of the memorable crystal gift sets which look beautiful in any home. Many people believe that crystals have healing properties so you can choose which of the crystal gift sets will suit the occasion best by the properties associated with particular crystals and looking at the recipients personality. Another great way how to choose which crystal gift sets will work the best is by colour, crystals come in various gorgeous colours, each in a black luxuriously padded box.


Small Purple Agate Geode Crystal Gift Sets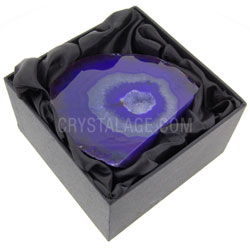 To add a boost of confidence to somebody try buying them this beautiful small purple agate geode crystal gift set. The rich purple colour of the agate crystal clearly displays the natural bands of the agate formation. You can enjoy the dramatic power of deep and lighter shades of purple in this agate geode, ideal for those with vibrant personalities.


Carborundum Crystal Gift Sets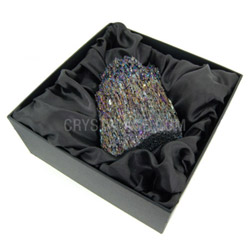 A gift definitely worth giving is this beautiful shimmering carborundum crystal gift set, presented in a cushioned black gift box, the rainbow effect colours in carborundum shine through vibrantly. The natural straight crystal formation of carborundum makes it a wondrous stone and it is said to absorb electromagnetic radiation produced by computers and other electrical equipment.