We've various new trilobite fossils for you to enjoy, each of which are between 540 and 250 million years old. Trilobite Fossils were once marine arthropods, they were one of the most successful creatures of their era and were once found in every ocean. Anybody who is interested in trilobite fossils will love this range of fantastic examples, from individual fossils to fossil plates, you will find excellent trilobite fossil gifts, suitable for any occasion.
Trilobite Fossils 50mm Walliserops Trifurcatus Fossil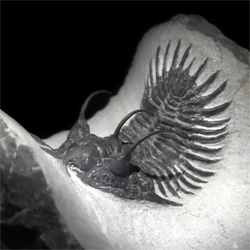 This 'short trident' is a type of trilobite Walliserops Trifurcatus, attractively presented against a pale limestone matrix. You can see the superb preservation of this trilobite specimen, right down to the detail of the horns, which have had little restoration. Considering this trilobite fossil is around 150-180 million years old, the 10% restoration it has roughly had is very impressive indeed, considering the quality of the fossil.
50mm Zlichovaspis Rugosa Trilobite Fossil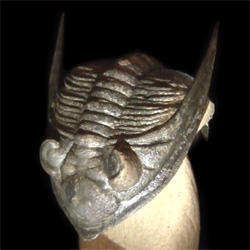 This nifty looking fellow is a fantastic fossil to have around, you can put him out on occasions such as Halloween to frighten guests, or simply keep it behind locked glass cabinet doors to show off all year round. The 50mm zlichovaspis rugosa fossil has been set on a pale contrasting limestone matrix and is a genuine, detailed example. This one-off zlichovaspis rugosa trilobite fossil is a one-off specimen, which happens to be a particularly desirable piece. Moroccan trilobite fossils of such high quality are quickly becoming more difficult to source and prices are very high due to this, meaning that they are a good investment to add to any fossil collection.