A heart necklace is a sweet way of showing a loved one that you care, each of these heart necklace pieces of jewellery can be adjusted in length. The wonderful thing about a heart necklace is that depending on the stone used, it has different attributes associated with it, as well as being assigned to birth signs. You can buy a heart necklace for any occasion as they are fantastic value for money and will always put a smile on someone's face.


Protection Heart Necklace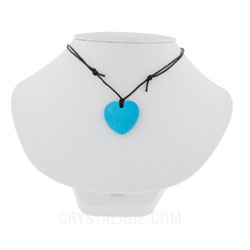 Wearing this cute Protection Heart Necklace will undoubtedly brighten your look, with the gorgeous vibrant turquoise Chrysocolla Howlite Crystal. The Chrysocolla Howlite is the birthstone for Gemini and makes an excellent birthday gift for Scorpio's. The Protection Heart Necklace has been carved and polished to a high finish and also has an adjustable thong which makes comfort very easy indeed. In addition to lightening your look, the turquoise howlite is also said to protect, calm, heal and strengthen.


Wisdom Heart Necklace
This pretty Wisdom Heart Necklace makes an ideal gift for family or friend, the length of the necklace can be adjusted to alter where it's most comfortable. The Wisdom Heart Necklace is made from New Jade which represents wisdom, encourages friendship, hope and inspiration. New Jade is the birthstone for Aquarius and Libra so makes a lovely gift for those who fall under those signs.


Love Heart Necklace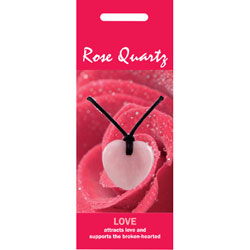 The rose quartz crystal in this Love Heart Necklace represents love and is believed by the experts to attract love and support the broken hearted. The birth signs that are marked by the rose quartz are Libra and Taurus, several stones can represent multiple star signs meaning you can often wear several colours in regards to jewellery and clothing.