Here at Crystal age we pride ourselves on beautiful, high quality crystals and I am pleased to announce our new range of unique crystal balls. We now have over fifty-one off crystal balls, each selected for its fine crystal and exclusive providence. In this post I am going to feature a couple of my personal favourites, but to browse the whole range I recommend visiting our unique crystal balls page. Crystal balls can be used in many ways and they are beautiful objects. Polished crystal balls have traditionally been used for scrying and clairvoyance. The best crystals for this are usually quartz and obsidian. They are also ideal for crystal healing and mineral collecting. One advantage of using crystal balls in healing is that a sphere radiates energy equally in all directions, enhancing its ability to affect a space or person.
Blue Apatite Crystal Ball – 5.5cm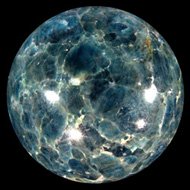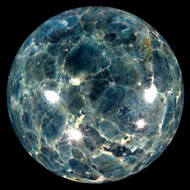 This blue apatite crystal ball is a very arresting piece. It has a beautiful range of teal blue tones, from a deep ocean blue to soft turquoise and sky blue. There is white veining around the whole of the sphere, in a way that is both attractive and typical for this variety of apatite. Given blue apatite's associating with communication and spiritual guidance, I think this crystal ball would be ideal for a healing or meditation space. You could use it for specific healing and meditation or simply place it in your healing space and allow its energies to fill the room.
Chevron Amethyst Crystal Ball – 4.5cm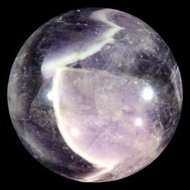 The dramatic markings of this chevron amethyst crystal ball make it a very attractive piece. It displays excellent white chevron markings almost all the way around the circumference of the sphere. The areas of pale and dark purple crystal contrast dramatically, giving you a beautiful and very eye catching crystal ball. As one of the most powerful Third Eye stones, chevron amethyst is ideal for meditation, spiritual progression and healing work. At just £24.99, this chevron amethyst crystal ball is an affordable way to enhance your spiritual practice or just bring a little soothing contemplative energy into your life.
Rutilated Quartz Crystal Ball – 17.5cm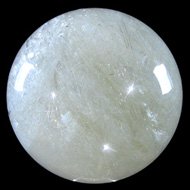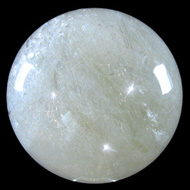 This rutilated quartz crystal ball is a truly remarkable piece. It contains an unprecedented concentration of silver and gold rutile and the effect is very beautiful. When you rotate this crystal ball the rutile shimmers and sparkles, creating little glimmers that shoot across the surface of the crystal. If you have any interest at all in rutilated quartz I recommend clicking on the image to see a display video of this sphere. As well as being very attractive, the concentration of rutile gives this crystal sphere excellent healing energy. Like all rutilated quartz, this sphere is ideal for combating depression. It is perfect for those wishing to align the crown and solar plexus chakras and is a wonderful addition to any crystal healing practice.