With the soft hue of a clear morning sky, celestite definitely lives up to its name. It is a mineral that is found worldwide; many pale blue specimens are found in Madagascar. Celestite is the principal source of the element strontium, commonly used in 
fireworks
 and in various metal alloys.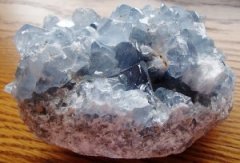 Celestite & Crystal Healing
Said to align with the higher realms, celestite is reputed to attune to the higher realms whilst simultaneously keeping you grounded. It is among the Celestial Communication Stones, along with moonstone and blue calcite. It is also said to be good for calming those with a fear of heights or of air travel.
You will find celestite crystals in some geodes. The world's largest geode is a celestite geode that measured 35 feet in diameter at its widest point. It is located near the village of Put-in-Bay, Ohio, on South Bass Island in Lake Erie.
CrystalAge has a shimmering selection of carefully selected celestite specimens that will stun you with their soft blue multi-faceted surfaces. To help you achieve peace of mind or to align with higher states of consciousness, celestite is an excellent addition to any collection. It is also used in crystal healing.
Celestite Crystal Gifts
The Celestite 8cm Crystal Cluster is regarded as one of the best crystals for aligning with higher states of consciousness – excellent to have in your meditation room or at your beside when you want to achieve those higher states of mind. The relaxing icy-blue of this stunning cluster makes for a beautiful crystal in its own right, ideal for home décor or an inspiring gift.
The Celestite Gift Box is a superb way to introduce celestite to a friend or loved one. Aligned with the higher chakras, celestite is said to exude tranquil vibrations which create a calming atmosphere in any space. Perfect for the office or any high-stress environment, this specimen is presented in a handsome matte black gift box with black satin interior.
Appreciate the calming blue beauty of celestite with the Celestite Tumble Stones. These tumble stones are a smoothened version of the multi-faceted celestite crystal. Polished stones are excellent for displaying in bowls, plant pots, or gardens and are of the perfect size and shape for holding while meditating.