Many crystals form alongside others but one of the most attractive crystal amalgamations is lapis lazuli and malachite. Both malachite and lapis lazuli have beautiful colours and when they form together the results can be stunning. Seen in the examples below, lapis lazuli is a bright blue stone while malachite is a lovely vibrant green. Both lapis lazuli and malachite have been prized for thousands of years and used as important decorative stones.
These stones are also highly complimentary in terms of crystal healing. Malachite is a goddess stone and a stone of transformation. It is said to help us make positive changes and give pain relief from injuries, arthritis, period pain and childbirth. Lapis lazuli was called the 'Stone of Rulers' by the Ancient Egyptians. It is believed to protect, inspiration, wisdom and truth.
Lapis Lazuli and Malachite Tumble Stones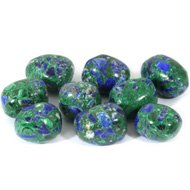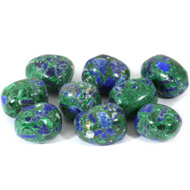 These lapis and malachite tumble stones are a lovely way to enjoy the beauty of the crystals. They really shine with colour and look very attractive placed around the home. These tumble stones are 20-25mm in size so you can take them anywhere with you. You could also focus on one during meditation or place them on the skin during crystal healing.
Lapis Lazuli and Malachite Palm Stone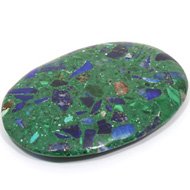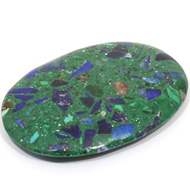 Palm stones make it easy to access the power of a crystal. This lapis lazuli and malachite palm stone measures 5cm x 7cm. It fits in the palm of your hand so it is perfect for focusing on during meditation and healing work. Palm stones make pretty ornaments and great gifts for anyone interested in crystals.