To improve your mood and enjoy approachable style you can try out the gorgeous range of sunstone jewellery. The gleaming orange colour of sunstone jewellery compliments many other colours and stands out fantastically against black. It is said that sunstone jewellery and other forms of the crystal provide anti-depressant qualities and improve sense of self-worth, allowing us to move on from feelings of failure. Many people wear sunstone jewellery to increase their luck and happiness, as well as to see the past in a better light.


Sunstone Jewellery 50mm Large Sunburst Pendant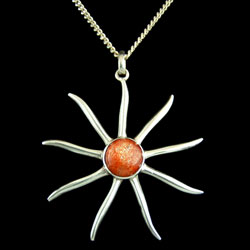 The simple yet artistic style of this pretty 50mm large sunburst pendant, beautifully displays a circular piece of sunstone set in solid silver. People of all skin tones can wear the 50mm large sunburst pendant to brighten up their style and hopefully make them feel better about themselves. This 50mm large sunburst pendant is a one-off piece, making it a stunning gift for a friend or family member.


Sunstone Jewellery 20mm Motif Oval & Silver Pendant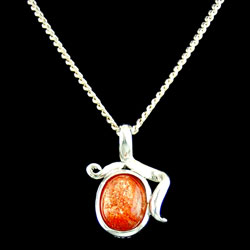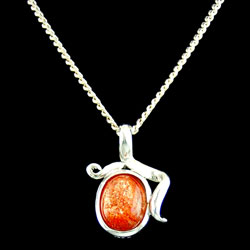 You will never find a 20mm motif oval sunstone and silver pendant quite like this one again, the one-off piece has an unusual design featuring a stylish curly silver motif. The natural sunstone crystal clasped inside the motif looks brilliant against the silver setting and is said to combat negative feelings, replacing them with optimism and confidence.


Other Sunstone Jewellery