Crystals make wonderful gifts and here at Crystal Age we have a great choice of affordable crystal gifts for any budget. Many of our carved and polished crystals are beautiful but surprisingly affordable, including crystal ornaments, healing stones and home décor items that really enhance a space. All our crystal gifts are sourced for their natural beauty and they really do have an indefinable quality that comes straight from nature.
Crystal Heart Gift Boxes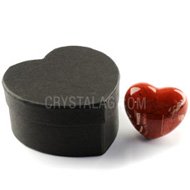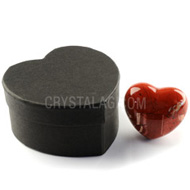 Crystal hearts a lovely way to bring crystals into your home and we have a great choice of them. I particularly recommend our Crystal Heart Gift Boxes, as pictured to the left. These smart gift boxes contain polished crystal hearts that are perfect for display, healing and little gifts. Starting at £6.99, they are great stocking fillers. Crystal Heart Gift Boxes are available in eleven different types of crystal: tiger eye, carnelian, malachite howlite, opalite, red jasper (pictured), rose quartz, snowflake obsidian, sodalite, turquoise howlite, red goldstone and amethyst.
Crystal Gifts For The Home
Crystal home accessories make wonderful gifts and we have everything from pretty crystal ornaments to lamps and exclusive carvings. There is something about the colour and natural quality of crystals that sets them apart from mass produced homewares and each one is unique, created from a piece of natural crystal. Below are three of my favourite crystal gifts for the home
but we have a much wider selection at CrystalAge.com.