There are many ways of showing how much you appreciate somebody, if you haven't tried buying multi gemstone bracelets for a friend or loved one yet, it's worth a go. There's something sentimental in giving friends pieces of jewellery, with such stunning natural gems, multi gemstone bracelets can be treasured for years. You can buy various different types of multi gemstone bracelets, enjoying a combination of textures, styles and colours to best compliment the recipient it is for.
4 Strand Multi Gemstone Bracelets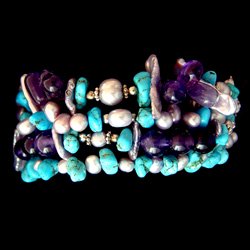 This eye-catching 4 strand multi bead bracelet has been made with great detail and precision. Featuring cluster style purple amethyst, turquoise magnesite and freshwater pearl, which look striking together.
Shell, Aquamarine & Citrine Multi Gemstone Bracelets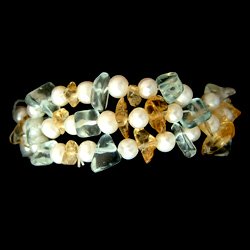 Ideal for bubbly people and those who generally enjoy the fresh look is this sweet shell aquamarine & citrine multi gemstone bracelet. Each gemstone on the shell, aquamarine and citrine multi gemstone bracelet reflects the light off it tranquilly. Beige, cream, black, green and yellow clothing look particularly good with the shell, aquamarine and citrine multi gemstone bracelet. In crystal healing it is said that both aquamarine and citrine are joyful and full of positive energy, some believe that they also reduce stress.