Apatite is a beautiful crystal with a bright and positive healing energy. It is great crystal to use in healing and meditation, as well as a very attractive one to have in any space. Here at Crystal Age we have an excellent range of apatite crystal, from small healing stones to beautiful jewellery.
Apatite crystal is associated with the zodiac sign of Gemini but its different varieties are each aligned with a different chakra. This crystal is believed to encourage extroverted, lively behaviour. It can reenergise the spirit and instils new motivation and drive. Apatite crystal also has an uplifting character and it is said to remedy anger, sadness and irritability; replacing them with optimism and a sense of community. On a physical healing level, apatite is believed to benefit the bones and teeth, in particular aiding the absorption of calcium necessary for healthy bones and teeth. These qualities are common to all varieties of apatite crystal but each type also has its own additional properties.
Green Apatite Crystal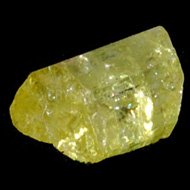 Green apatite crystal is aligned with the heart chakra – Anahata – and its healing properties are largely centred on the heart and chest area. Green apatite is believed to expand the chest and lungs, improve digestion and can also aid the kidneys. Green apatite is said to give you comforting and nurturing protection around the whole body. It can also heal the heart on an emotional level, dispelling emotional pain and lifting the spirits.
Blue Apatite Crystal
Blue apatite crystal is aligned with the throat chakra – Vishuddha. As you would expect, blue apatite is associated with communication and spirituality. It is believed to facilitate communication on every level and is said to help open the doors to spiritual guidance. On a physical level, blue apatite crystal is said to stimulate energy and blood flow and can be helpful as a way to scan the body before commencing treatment.