If you would like to carry a piece of sunshine with you then wearing or using the Citrine Gemstone is believed to warm, comfort and energise you like the sun. The Citrine Gemstone is thought to stimulate creativity, independence and abundance, having a gentle grounding effect. Another belief about the Citrine Gemstone is that it diminishes self destruction tendencies and raises self esteem, therefore it is great for overall emotional well-being.


Citrine Gemstone Chip Bracelet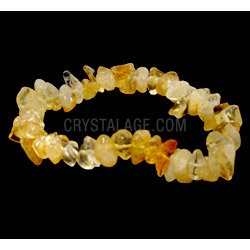 Add fantastic vibrant colours to your outfit with this pretty Citrine Gemstone Chip Bracelet, this sunny gem chip bracelet has polished chips threaded on a comfortable elastic band. The Citrine stone is considered to be one of joy, believed to warm and energise the body and mind and to stimulate creativity and abundance. Whilst wearing the Citrine Gemstone Chip Bracelet you can feel the great energy of the citrine stone at all times.


Large Citrine Gemstone Cluster Gift Box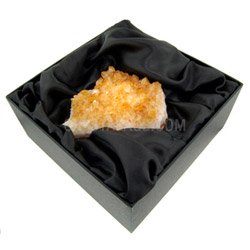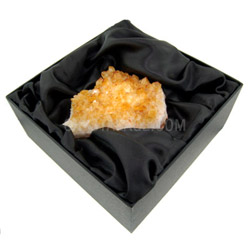 Treat somebody special to the subtle beauty of Citrine with this Large Citrine Gemstone Cluster Gift Box. The Citrine Gemstone is beautifully presented in a luxurious black cushioned gift box which highlights the Citrine Gemstone fantastically. The sunny colour of citrine makes it a joyful and comforting crystal to have around the home as well as a striking ornament. It is thought by many crystal fanatics that the Citrine Gemstone is aligned with the sun and brings warming energy and abundance.


'A' Grade 20cm Citrine Gemstone Cluster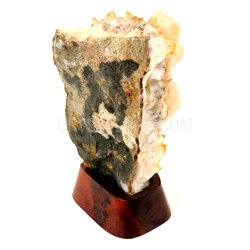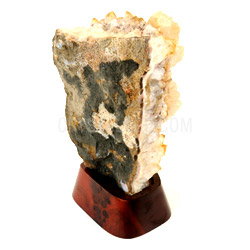 This gorgeous 'A' Grade 20cm Citrine Cluster With Base will look fabulous on any mantle piece, table or shelf. Due to the Citrine Gemstones being so well formed and the beauty of the colours this cluster has been judged an 'A' Grade. The Citrine Gemstone has a warm, uplifting solar energy to it, believed to enhance creativity, independence and self-esteem. The Citrine Gemstone Cluster is mounted on a dark wooden base, to show off the cluster in all its glory. The 'A' Grade 20cm Citrine Cluster with Base is an extra special treat or gift item as it's a one-off piece.