Crystal Lamps add both character and beauty to the home and crystals are believed to hold magnificent healing properties, so the benefits of owning a Crystal Lamp are quite outstanding. The Selenite crystal also known as Satin Spar is thought to be highly directional with great vibrational energies, helping to remove unwanted energy and bring clarity. Crystal Lamps are very striking as well as being great to instantly create a welcoming and comforting atmosphere. If you really want to surprise somebody who is into their crystals or who just need extra lighting in their home, then crystal lamps is a great option they are sure to love.


Selenite Skyscraper Crystal Lamps with Base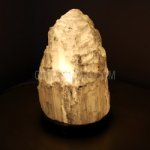 Enjoy the timeless glow of this wonderful Selenite Skyscraper Crystal Lamp in the comfort of your own home. Selenite forms in long straight crystals, which is why they are known as skyscraper formations. With the fantastic healing properties of Selenite, these crystal lamps are believed to remove negative energies and keep your clear headed, something we could all do with. These Selenite Skyscraper Crystal Lamps come complete with a base and make absolutely stunning gifts.


Selenite Crystal Lamp Log – Polished Top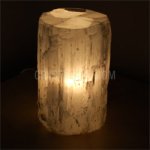 For a classic charm, these neatly finished Polish Top Selenite Crystal Lamps have been carved into log shapes and have a polished top. These striking crystal lamps have been made from a single column of Selenite and glow fantastically when switched on. These crystal lamps are a section of a skyscraper formation and will stand out in any home, adding style and interest.


Selenite Crystal Lamps Log – Natural Top
Keeping natural, this example of crystal lamps is a much more rugged piece of Natural Top Selenite Crystal Log. You can use these Selenite Crystal Lamps as centrepieces or pair them up and place either side of a fireplace or other feature for a more symmetrical look. The beautiful glow of this Selenite Crystal Log is memorising and will calm the mind and hopefully remove any unwanted energy with its healing properties.