Crystals are thought to bring good luck, healing and uplifting qualities to people close by to them, Crystal Pyramids are a great way to enjoy both the ornamental value and good vibes from the crystals. There are a variety of different sized crystal pyramids with varying attributes, you can buy crystal pyramids to use as gifts by zodiac sign, chakra alignment or just favourite colours.
Opalite Crystal Pyramids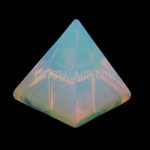 Create wonder and awe with these beautiful glowing Opalite Crystal Pyramids. The gorgeous two toned pink and blue Opalite has a metallic type sheen, yet beautifully soft in texture, adding a warmth to any setting. Opalite is the crystal used to advance towards inner peace, it is used to lift depression, soothe the nerves and bring serenity to loving relationships. These Opalite Crystal Pyramids are fantastic and thoughtful gifts, to fill someone's life with energy and beauty.


Mookaite Crystal Pyramids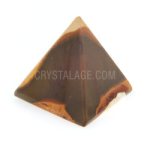 For a homely and earth bound piece of style, use this gorgeous Mookaite Crystal Pyramid, a versatile Australian Jasper. The warm yellow, oranges, reds and browns will instantly add ambience to a room. The Mookaite crystal is believed to help keep a healthy balance between external stimulation and spiritual development. The Aboriginal people use the Mookaite crystal for healing and strength.


Sodalite Crystal Pyramids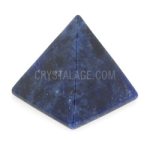 The Sodalite Crystal is aligned with the higher chakras and intellect, great for Sagittarians as it is their birthstone. These Sodalite Crystal Pyramids are believed to help us understand our feelings and opinions as well as communicating more effectively to others. The cool deep indigo of the Sodalite Crystal is beautifully flecked with grey and white tones, creating a refreshing stylish feel wherever it stands.