With the natural and beautiful colours infused into agate and natural formations highlighted, an agate slice makes quick work of brightening up any home. There is a great range of agate slice available each of which vividly displays the banded structure of crystals in a gleaming manner. For maximum effect place an agate slice next to a light source, natural light working best, there are even agate slice wind charms that you can hang from the ceiling which look particularly great next to windows and doors.


Natural Agate Slices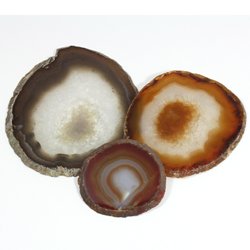 Enjoying agate in its natural state is a special thing, these pretty natural agate slices clearly display the intricate structure of agate. Brown and cream tones merge together to make a neutral and comforting addition to any room. Many people associate agate with harmony and motional, physical and intellectual balance into the lives of those who use it.


29cm Pink Agate Slice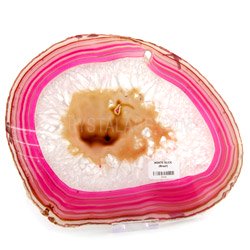 Within this 29cm pink agate slice magical looking display, you can easily get lost in the beauty with sharp detail emphasized with bright pink. The combination of hot pink and cool cream and beige work very well, showing each layer of the crystals formation in quite a spectacle. In addition to balancing unequal energies, agate is also believed by many to improve concentration.