Jade Crystal has two minerals in it which are very different to each other, Nephrite which is a calcium magnesium silicate and Jadeite a sodium aluminium silicate. The first Jade Crystal arrived in Europe from Mesoamerica, brought by the conquistadors. As Jade Crystal is a very hard stone it was favoured by many to make axes, clubs, knives and other types of weapons.


New Jade Crystal Drilled Tumble Stone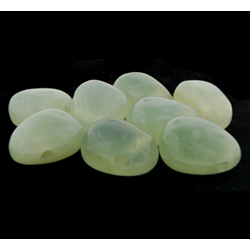 These beautifully smooth New Jade Drilled Tumble Stones are ideal for wearing as pieces of jewellery, or attaching them to bags and home furnishings. You can wear the cleansing new jade drilled tumble stone with other types of tumble stone, or simply just use jade for a casual look. New Jade is thought to be a purifying crystal which can detoxify, alleviate pain and heal illnesses. If you enjoy making jewellery, or want to set up interesting decoration in the home then these New Jade Drilled Tumble Stones are the ideal way to assist you.


New Jade Crystal Gemstone Chip Bracelet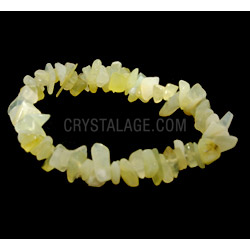 A great way to get children into the Science of Crystals is with a gemstone chip bracelet, this pretty New Jade Crystal Gemstone Chip Bracelet is sure to make any little girl feel special. Adults can wear a New Jade Crystal Gemstone Chip Bracelet too of course, to create a casual beach look. The New Jade Crystal Gemstone Chips have been highly polished to a smooth finish, and then strung onto a soft elastic band. It is believed that the New Jade Crystal is a lucky stone, great for healing and cleansing as well as a soothing pain and stress reliever.