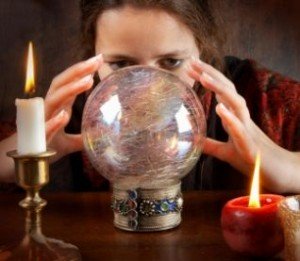 We've all seen images and films depicting witches and sorcerers gazing into gleaming crystal balls, peering into the future. From ancient times, crystal spheres have been considered by mystics to be of the perfect shape and material – often clear quartz – to access hidden information as well as for crystal healing. This practice of gazing into crystal balls is also known as 'scrying' and, as we'll see, can often involve the use of elements other than spheres.
Why A Crystal Ball?
The spherical shape of a crystal ball is said to have the energy of harmony and perfection, radiating the energy of crystals equally in all directions. The properties of quartz crystal also play a large part in this, being one of the most important healing crystals available. Quartz crystal is reputed to channel energy through its helical spiral crystalline form. Even the most subtle healing energy can be channelled by a crystal ball into any space, neutralising many negative emotions.
What is Scrying?
Diviners and fortune tellers have used crystal balls as a way of looking into the future or simply for specific revelations. Scrying can be practiced using diverse elements such as water, fire, leaves, smoke, or polished scrying mirrors. In fact, any smooth surface may be used, such as a bowl of liquid, a pond, or a crystal (especially crystal balls). In the past, the visions that resulted from staring into these elements were believed to have come from the spirit world. Today, any images that emerge are thought to come from the subconscious. When using crystal balls for scrying, a person focuses their attention on the sphere, discarding unwanted thoughts and going into a trance. Any images that appear are then are acknowledged and this leads to an even deeper trance state. The scryer then interprets the flow of images like a movie.
Scrying throughout History
Throughout history, spiritual visions have been sought through the practice of scrying – which uses not only crystal spheres but other objects as well.
According to the Shahnameh, a late 10th century Persian epic work, the Cup of Jamshid – a cup of divination – was used by wizards as a way of looking at the seven layers of the universe.
Joseph Smith, prophet of the Mormon religion, claimed to have used 'seeing stones' in order to translate an ancient text he had discovered.
Nostradamus was perhaps the most famous scryer, using a bowl of water to see into the future while in trance.
Which Crystal Ball Should I Choose?
For scrying, choose a crystal ball that appeals to you the most and whose properties correspond with your needs. Clear quartz, smoky quartz, and amethyst are the most popular of the crystal spheres. Remember, a crystal ball need not be for divination – they make wonderful display pieces and unique additions to home décor.