Blue Goldstone Crystal is a gorgeous copper speckled crystal which looks fantastic in both sunlight and artificial light. Some people think that the sparkles in the blueness represent the light that can be found in darkness, resembling the sky and reminding you to reach for the stars. You can use Blue Goldstone Crystal during meditation sessions, or carry it around with you wherever you go. Copper in itself is said to be helpful in areas of inflammation and helping to increase blood flow, this makes Blue Goldstone Crystal great for those who suffer from bad blood flow and inflammations of any kind.


Blue Goldstone Crystal Chip Bracelet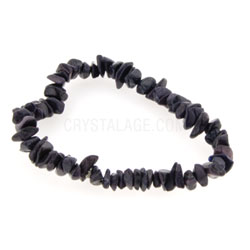 With this pretty Blue Goldstone Crystal Chip Bracelet you can add a casual hint to your look, whilst enjoying the subtle blue of this Goldstone bracelet. Blue Goldstone crystal is a gemstone which is associated with aiding communication and is even said to help with astral travel. Blue Goldstone Crystal has copper particles within it which create a complimentary shimmering effect when the light hits it, many crystal healers believe that the copper can generate warming pain relief.


Blue Goldstone Crystal Palm Stone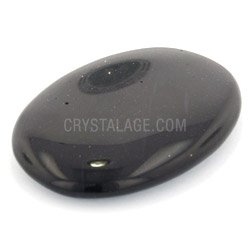 You can use this smooth Blue Goldstone Crystal Palm Stone to ease stress by simply holding it in your palm. The copper particles in the Blue Goldstone Crystal Palm Stone compliment the dark blue goldstone beautifully, resulting in a dazzling effect. Blue Goldstone is aligned with the throat chakra, Vishudda and is primarily used on a spiritual and astral level. In addition to using Blue Goldstone Crystal for yourself, you can also buy it as a gift for somebody else, to add to or begin a crystal collection.