Wind chimes have a welcoming presence to them, letting us know when the wind picks up or somebody brushes past, the sounds they make can be quite enchanting.
Agate Wind Chimes
not only sound great but they look beautiful as well. There are a total of seven individual highly polished agate slices, which hang from the
Agate Wind Chimes
. You can enjoy a variety of shapes and colours with these charming Agate Wind Chimes, suspended stylishly from a wooden ring.
Blue Moon & Stars Agate Wind Chimes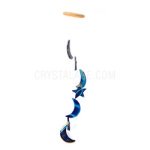 Add some character to your home with these gorgeous
Blue Moon & Stars Agate Wind Chimes
. The highly polished gloss of the moon and star shapes make them shine in the sunshine and twinkle in the night sky. Suspended from a wooden ring, you can hang these agate wind chimes wherever you wish, outside to ring pleasantly in the breeze or inside to keep check of whose coming in and out. Agate wind chimes make great decorations for the home and garden too.
Purple Sliced Agate Wind Chimes
The rich colours of this
Purple Agate Wind Chime
is beautiful to look at and the wonderful merging colours glitter in the light. Agate being a naturally translucent crystal will glow both in natural and artificial light. Agate Wind Chimes are nice and light so they will delicately tinkle and dance in the slightest of breezes, far from the large heavy loud chimes Agate Wind Chimes make a light pleasant sound. You can give this Purple Agate Wind Chime as a gift for somebody you want to cheer up or for a special occasion as it's no ordinary wind chime.
Pink Agate Wind Chimes
Bring a hot burst of colour in or outside your home with these beautiful
Pink Agate Wind Chimes
. The vibrant and highly polished agate slices will sway in the wind and gently chime, creating quite a site. With these pink agate wind chimes you can quickly brighten up any environment.