The Citrine Crystal is also known as Cairngorm and is usually yellowish brown or smoky grey brown in colour. It is widely believed by crystal experts and healers that the Citrine Crystal is a powerful cleanser and regenerator. Thought to carry the power of the sun, the Citrine Crystal is warming, energizing and highly creative according to common beliefs. Citrine Crystal is said to be a positive stone that teaches how to manifest and attract wealth and prosperity, along with success and everything good. Psychologically, Citrine is meant to raise self esteem and confidence, removing destructive tendencies and enhancing individuality and expression. The stone is also thought to promote the enjoyment of new experiences, encouraging every exploration possible until you find contentment. Mentally citrine is said to enhance concentration and revitalize the mind, great for depression, fears and phobias.
Extra Large Citrine Natural Point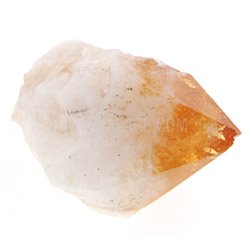 This gorgeous Extra Large Citrine Natural Point is thought to be one of the most useful healing stones, believed to be capable of reversing degenerative disease, stimulate digestion, the spleen and the pancreas. Kidney and bladder infections are also said to be soothed by using the citrine crystal. You can use this Extra Large Citrine Natural Point as a meditation tool, wand to direct energy or simply to bring the warmth of the citrine crystal into your home. Each of the Extra Large Citrine Natural Points are one-off items, allowing you to enjoy a completely unique item.