Natural Citrine is said to carry a powerful frequency that allows clearing and strengthening of the manifestation channel as well as personal will. It is said that from an emotional point of view citrine crystal helps one to overcome difficulty, maintains effort through adversity and helps you to take decisive action in order to resolve difficult situations. Citrine Crystal is thought to be particularly helpful for those who feel undeserving of abundance assisting in you overcoming these feelings. From a physical aspect, citrine crystal is believed to enhance stamina and energy as well as supporting the endocrine system and helping with metabolism.


Medium Citrine Crystal Cluster Specimen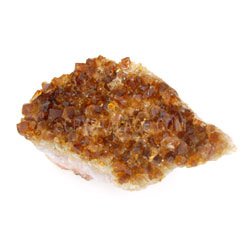 Using this warming medium citrine crystal you can lighten a room very easily, the crystal goes very well with honey coloured décor and makes a welcoming addition to any crystal collection. The honey colour of the medium citrine crystal cluster specimen is a result of very high temperatures during the crystals formation and it is said to bring calmness and happy character. Some crystal healers believe that citrine crystal clusters absorb negative energy as well as gently releasing joy and tranquillity in its place.


Citrine Crystal Natural Point Keyring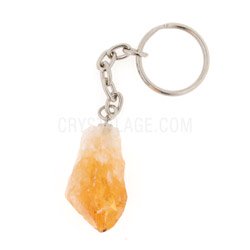 Keys are very easy to lose which can be frustrating when you are in a hurry, eliminate the chances of this happening by using this beautiful Citrine Crystal Natural Point Keyring. The keyring not only looks great but it is said that by pointing the crystal point towards you that you can channel the energy of the crystal towards the body, pointing it away from the body draws energy away. Citrine Crystal is considered by many to be similar to the sun in that it is warming, comforting and energising, many believe that the stone can stimulate creativity and independence which also makes it a great gift.