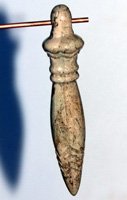 The Egyptian pendulum is a special shape of pendulum that can be used for a wide range of dowsing and healing applications. Here at Crystal Age we have a wonderful new range of crystal Egyptian pendulums that are a pleasure to use. Egyptian pendulums have a distinctive shape based on Ancient Egyptian amulets and they can be made from wood, metal, crystal or even plastic. Personally I much prefer a crystal Egyptian pendulum as you not only benefit from the properties of the crystal but you also end up with a pendulum that is beautiful in itself.
The Original Egyptian Pendulum
The shape of Egyptian pendulums is based upon an Egyptian amulet known as the 'Oaudj' amulet, pictured on the right. These amulets have been found in the bandages of many Ancient Egyptian mummies and they we used to guide and protect the deceased in the next world. These amulets came to the attention of crystal healers thanks to the work of famous dowsers M.A. De Belizal, P.A. Morel and their book Physique Micro Vibratoire et Forces Invisible. They studied Oaudj amulets and discovered it to be a powerful tool, perhaps used by Ancient Egyptian priest-magicians to perform sacred rites. Nowadays Egyptian pendulums are used for many different crystal healing applications including dowsing and work with waveforms. They are a wonderful tool for healing and can be explored in an endless variety of ways.
Our Crystal Egyptian Pendulums
Here at Crystal Age we have a range of beautiful crystal Egyptian pendulums, a selection of which you can see below. These Egyptian pendulums are 7cm long and they have a lovely tactile, rounded shape. Each one comes ready to use on a 25cm silver tone chain.