The Lapis Lazuli stone is a beautiful stone, believed to stimulate enlightenment and enhance dream work and psychic abilities. Lapiz Lazuli is said to be capable of releasing stress and bringing deep peace to those who use it. It is thought that the Lapis Lazuli stone is a protective one, recognising psychic attack, blocking it and returning the energy to its source. Crystal healers also believe that the Lapis Lazuli stone can teach powers of the spoken word and reverse curses and disease caused by not speaking out in the past. Any repressed anger causing difficulties in the throat or in communication is said to be released by Lapis Lazuli.


Lapis Lazuli Thumb Stone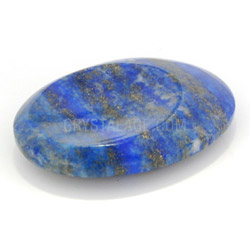 You can hold this vibrant blue Lapis Lazuli Thumb Stone to enjoy relieving any stress that you might be holding onto. The Lapis Lazuli Thumb Stone has been used by many ancient cultures to bring enlightenment and wisdom, known as the stone of rulers. It is thought that you can use the Lapis Lazuli Thumb Stone to combat migraine headaches, overcome depression and to help the nervous system.


Lapis Lazuli Tumble Stone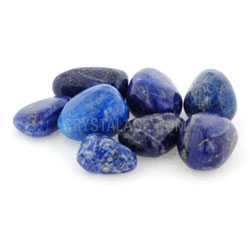 Awaken the wonderful energy of Lapis Lazuli with these gorgeous Lapis Lazuli Tumble Stones. Tumble stones are an easy way to bring the qualities of Lapis Lazuli into your home, considered to be a relaxing stone, being the colour of the deep ocean it's not hard to see why. Lapis Lazuli Tumble Stones can be used for spiritual development, meditation or healing and is available as a single stone, 5 pack, 10 pack or 20 pack.