If you are searching for some great jewellery accessories you've come to the right place. Gemstone bracelets sparkle for a dazzling shine particularly when in the light, ideal to compliment any type of outfit.
An interesting and classy choice would be this Sodalite & Quartz twisted gemstone chip bracelet, the chips have been carefully and skilfully wound together to create this lovely crystal bracelet. The deep indigo of the sodalite perfectly complements the light quartz.
This sodalite & Quartz Gemstone Bracelet is thought to align the higher chakras and strike a balance between intuition and intellect. As well as healing and cleansing powers, this gemstone bracelet is believed to also improve communication. Gemstone Bracelets are Ideal for a gift or special treat.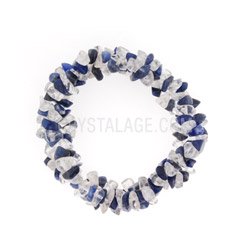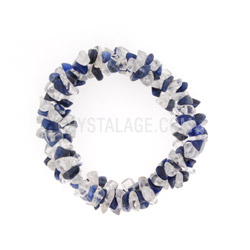 Also in the gemstone bracelets collection of pro provider Crystal Age is this Quartz Power Bead Bracelet. Beads of quality quartz are polished to a glossy finish. It's easy to achieve classic beauty with the range of transparency in these beads. Surrounding colours will shine and brighten the beads on this bracelet.
Quartz is very popular with crystal healers and many believe it is the most important crystal. Wearing these gemstone bracelets is thought to direct and absorb energy, to aid with focusing and cleansing parts of the body and mind. This quartz power bead bracelet is also believed to improve memory.