Sodalite is a superb crystal to buy for a partner around Valentines Day aiding harmony in any relationship. The Sodalite Crystal is believed to be great for communication, idealism and ambition so is an all round fantastic stone to have around. The useful combination of intellect and intuition comes in valuable in many circumstances and makes the Sodalite Crystal superb for meditation. The Sodalite Crystal is the birthstone for Sagittarius and focuses on the throat chakra which is where communication is aided. There is a vast choice of tumble stones to choose from and they look great when used for decoration around the home too.


Sodalite Crystal Heart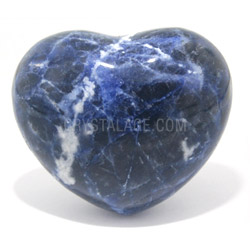 This gorgeous striking Sodalite Crystal Heart makes a gorgeous compliment to any crystal collection. The crystal hearts, particularly the Sodalite Crystal Heart is beautiful to look at and compliments tumble stones and mini spheres fantastically. It is believed that this Sodalite Crystal Heart can help to clear electromagnetic pollution, which makes it ideal for those who are on computers much of the time. The Sodalite Crystal Heart figurines make superb Valentines Day gifts as well as beautiful additions to any crystal collection.


Sodalite Crystal Tumble Stone

These beautiful Sodalite Tumble Stones were traditionally used as healing stones and are a great inexpensive way to start your own crystal collection. Each of the Sodalite Tumble Stones have a perfectly smooth surface, resulting from rock tumbling which makes the stones comfortable to hold.