When it comes to glamorous crystal jewellery, a quartz pendant is a lovely choice. Quartz is a beautiful crystal and it catches the light well, giving you glamorous sparkle and shine. Here at CrystalAge.com we have a wide range of quartz pendants ranging from inexpensive tumble stone pendants to beautiful quartz and sterling silver pendants like the ones below. These quartz pendants make wonderful gifts and they are a great way to bring the natural beauty of crystals into your look.
Quartz Point Pendants
Quartz points are widely used in crystal healing and they made beautiful pendants. Quartz point pendants are believed to channel healing energy and wearing one is said to help you benefit from the healing power of quartz at all times. These quartz pendants feature sterling silver motifs set with accent stones such as carnelian and peridot, which add to the style and healing power of the quartz points. They are very glamorous and really make a statement.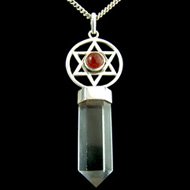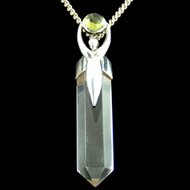 Gold Rutilated Quartz Pendants
Gold rutilated quartz is a particularly striking variety of quartz that contains densely packed strands of golden rutile. The colour is amazing and the strands of rutile really shine in the light. The pendants below feature gold rutilated quartz that has been cut into a star facet, which maximises the overall shine and beauty. They are set in sterling silver and make a lovely gift.