The crystal system of the Rose Quartz Crystal is hexagonal, usually occurring in huge forms but also in clusters of small prismatic crystals. Rose Quartz Crystal ranges from very pale pink to deep reddish pink in colour and is widely believed to represent love, emotional healing and stress relief. It is said that Rose Quartz Crystal is immensely powerful, to the extent of being capable of penetrating love vibrations down to cellular level to reprogram cells to be joyous and to influence longevity rather than despair and death. There are several Rose Quartz Crystal products that you can enjoy with everything from jewellery to palm stones and tea light holders.


Rose Quartz Crystal Heart Pendant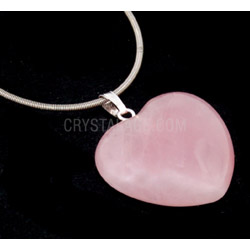 This beautiful Rose Quartz Crystal Heart Pendant is a wonderful gift for a loved one as well as for friends and acquaintances that have experienced emotional turmoil. The calming qualities of the Rose Quartz Crystal are thought to be capable of helping to release worry, fear, anxiety and past emotional trauma. The pretty clouded pink colour of this Rose Quartz Crystal Heart Pendant goes very well with all kinds of colours and brightens up clothing with a special glow. The Rose Quartz Crystal Heart Pendant has been carved from a solid piece of rose quartz, selected especially for the colouring and high quality of the specimen.


Rose Quartz Crystal Thumb Stone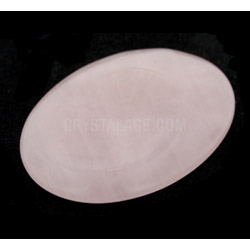 You can use this fresh coloured Rose Quartz Thumb Stone as a stress reliever by carrying it around with you and simply holding it and focusing to create inner calm as and when required. Rose Quartz is believed to attract love and understanding as well as help to relax the mind so it's a great all rounder to have around. A Rose Quartz Thumb Stone makes a great gift for any crystal collector or person you think would find it useful.