You can find Snowflake Obsidian Crystal all over the world, the name comes from the appearance of the crystal which is a mottled black with white blotches similar to snowflake shapes on the surface. It is said that Snowflake Obsidian can teach you to value mistakes as well as successes and when placed on the sacral energy point or chakra, it is believed to soothe and calm the mind and body, helping you enjoy a good the right frame of mind to be receptive and bringing ingrained patterns of behaviour to your attention. Snowflake Obsidian is believed to be useful in recognizing and releasing "wrong thinking" and stressful mental patterns, also promoting dispassion and inner centering.


Snowflake Obsidian Capricorn Birthstone Bracelet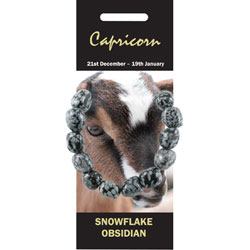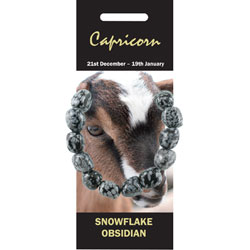 This gorgeous Snowflake Obsidian Capricorn Birthstone Bracelet is made from gleaming shiny Snowflake Obsidian gemstones, the black and white marble effect gemstone will compliment any clothing and accessories you wear it with and is also very comfortable to wear throughout the day. Capricorns are said to be ambitious and persistent, yet patient and modest, these balanced traits are thought to be aided by the energy of snowflake obsidian, bringing purity of the mind as well as revealing and balancing desires. Each individual crystal on this Snowflake Obsidian Capricorn Birthstone Bracelet has been highly polished into a smooth nugget, and then threaded onto elastic for flexibility. Ideal recipients of these beautiful bracelets are those born between December 22nd and January 19th.


Other Snowflake Obsidian Products