You can create a stunning piece of jewellery by using Sodalite Beads, these string of beads are available in round beads of 4mm and 5mm and boast gorgeous deep blues which compliment a variety of other colours. Sodalite Beads are thought to withhold many beneficial qualities such as being good in helping more effective communication, as well as providing a balance between intellect and intuition. You can either treat yourself to sodalite beads, or buy them as a gift for somebody else who you know enjoys crystals or jewellery making.


5mm Round Sodalite Beads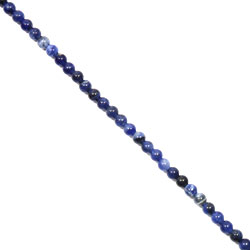 Add calm and collectiveness with these pretty 5mm Round Sodalite Beads, featuring lovely blue tones which compliment all skin colours. The round shape of the 5mm Round Sodalite Beads are very comfortable to use in the hands and are very easy to work with as a result. Many people use these 5mm round sodalite beads for beadwork and jewellery making, others simply to eliminate stress and communication difficulties.


4mm Round Sodalite Beads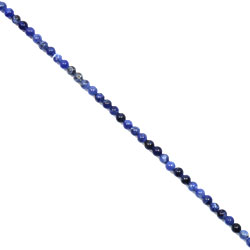 For smaller hands, you may prefer the 4mm Round Sodalite Beads, these beads are slightly smaller than the 5mm beads but just as beautiful, featuring a marbled speckle appearance in deep sea blues. The 4mm round sodalite beads are supplied on a temporary 16″/40cm string, ideal for later changing around or replacing with a tougher clasp arrangement for jewellery.