Stylish and affordable, crystal bracelets are a great way to add colourful crystal to your look. At Crystal Age we have a fantastic choice of crystal bracelets, from exclusive sterling silver designs to inexpensive power beads. These bracelets make wonderful gifts and allow you to really brighten up your look. A crystal bracelet is also a great way to benefit from the healing power of crystals. As you wear the bracelet you are in close contact with the healing crystal all day. You can place the bracelet on the side of your body that needs healing and some people believe that having the crystal close to a pulse point also helps to bring out its healing powers.
Birthstone Crystal Bracelets
Our birthstone crystal bracelets are a lovely gift. Each bracelet uses a crystal chosen for its strong connection to your star sign. They are a fantastic way to get in touch with your sign and centre yourself on the qualities that make you who you are. Birthstone jewellery is said to have a positive healing effect on you and help you be at your best. We have a full set of birthstone bracelets for the twelve star signs, including these examples.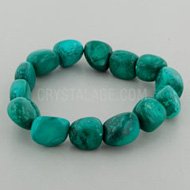 Nugget Crystal Bracelets
Nugget crystal bracelets are simple bracelets that really show off the natural beauty of the crystal. We have a great choice, including popular crystals and harder to find stones. These bracelets are very stylish and the different colours of the crystals make a real statement on your style.