The gorgeous finish of moonstone jewellery makes it a fantastic choice for both crystal and jewellery enthusiasts. We have a great selection of moonstone jewellery from pretty pendants to elegant rings, each with a uniquely beautiful finish that will brighten up your look. Our moonstone jewellery will make a fantastic gift for any occasion and is a great way to introduce the wonderful properties of crystals to your everyday life. Make sure you take a look at our full range of products for an elegant finish to your look.
Silver And Moonstone Rings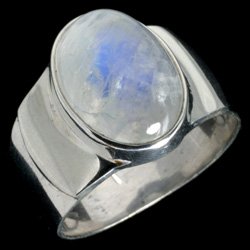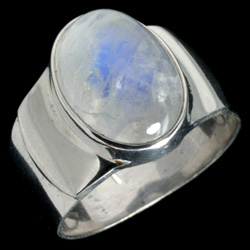 The bright shiny finish of the silver band beautifully compliments the pretty blue shimmer of the moonstone for a truly elegant piece. The simple oval shape will work with any style and the stunning luminous finish of the moonstone will draw all the attention from friends and family.
Moonstone has a wealth of positive properties that can help bring balance and harmony to your life. It is said to be a wonderful stone that inspires flexibility and is thought to help aid psychic development while creating a connection with the divine to help form an emotional balance. Moonstone is also thought to relieve stress and tension and is sometimes regarded as the stone of women.
Moonstone is thought to help stabilize all emotional states and is aligned with the sacral chakra and the crown chakra. It is also thought to work well with the solar plexus combating emotional stress, which can upset the nervous system. This beautiful ring will make a fantastic addition to your look and will also make a wonderful gift for someone special.
Moonstone Pendants
Each of our moonstone pendants combines beautiful detailing and style with the elegant finish of moonstone. Below we have picked three of our favourite pieces that will look great with any outfit and style.
The sunburst silver and moonstone pendant has a pretty finish that will bring definition and character to your look. The shiny silver and the luminous glow of the moonstone brighten up your look in an instant. The gorgeous shape represents the sun, an important figure that brings us light, warmth and life.
With a wonderfully detailed character the archangel silver and moonstone pendant is eye catching and bright. The angel is carved from sterling silver and finished with a gorgeous moonstone stone that shines beautifully in the light. This pendant is a great way to keep the angels and god close to you each and everyday. This pretty piece is simply beautiful and will look gorgeous worn with both elegant evening wear and casual wear.
With a simple yet glamorous finish the long diamond silver and moonstone pendant will compliment any look beautifully. Wear for all your special occasions and enjoy a complimentary finish to your style. The simple oval shape portrays a host of gorgeous colour and shines beautifully in the light. Set in sterling silver it feels great against your skin and is easy to wear. A fantastic way to introduce crystals to your daily life this pendant will look beautiful worn and will make a heartfelt gift for someone special.