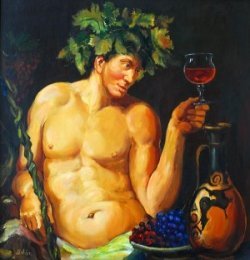 Here's a tale from Greek mythology that may have slipped past you. Dionysus, god of wine and inebriation, decided one day to pursue the affections of a maiden named Amethystos. Not interested in the drunken deity, Amethystos pulled a clever trick.
She prayed to Artemis to help her stay pure and was promptly transformed into a white stone. A humbled Dionysus splashed some wine over the stone as an offering and the purple amethyst stone was born. However, science tells us that the amethyst stone is actually irradiated quartz. Whether you choose to believe the myth or the reality, it is still one of the most elegant stones you can find.
Amethyst is one of the best stones for healing and the release of negative energy. It helps boost the immune system and can even aid those suffering from addictions. Place one on your bedside table at home for peaceful nights and uncluttered dreams. Or keep a stone or two on your office desk; it will absorb the stress in the room and create a much more relaxed working environment.


Amethyst Jewellery
A great idea is to have peaceful amethyst with you wherever you go – and a great way to do this is with one of our beautiful pendants. Hang the pendant on your headboard at night before you go to sleep to enhance your slumber. Then, when the working day begins, slip it over your neck, either over your shirt or blouse as a decorative piece of jewellery, or secretly tucked inside your top to lie next to your skin.
CrystalAge.com has a beautiful range of amethyst products and crystal jewellery. Have a browse and if you want to discover even more, check out Jewellery World's own inspiring amethyst collection. However you decide to integrate amethyst into your life, you'll be glad to have its positive energy smoothening the way on life's often bumpy ride.