By treating yourself or somebody else to a crystal heart, you can spread the love. Each crystal heart displays a unique pattern, is believed to hold beneficial qualities and can be personalised by choosing them by birthstone or emotional properties. You can also display crystal hearts with tumble stones and mini spheres and create a spectacular crystal collection in your home.
Rose Quartz Crystal Heart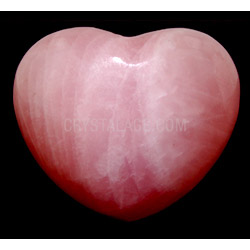 The gorgeous tones of pink in this Rose Quartz Crystal Heart are truly beautiful and the ideal way to show somebody that you love them. Rose Quartz is known as a love stone, believed to encourage compassion, love and harmony, in addition to this it is also thought to encourage friendship, love of the Divine, self acceptance, kindness and romance. The rose quartz crystal is considered to be a soothing and supportive crystal, great for combating stress and insomnia, it's also superb for broken hearts.


Opalite Mini Crystal Heart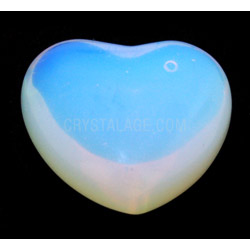 This gorgeous Opalite Mini Crystal Heart is a must have for any crystal collector, the beautiful bluey pink of this crystal will set a tranquil atmosphere wherever it is placed. Opalite is a stone of love for faithful lovers, alleviating depression, soothing nerves and brings serenity to the mind and heart. The Opalite Mini Crystal Heart makes a great gift from one faithful lover to another and is very romantic both to look at and feel.


Honey Calcite Crystal Heart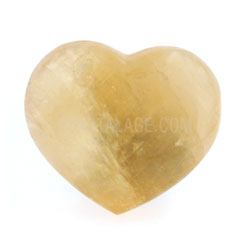 Add a warm sweet feeling into your home with this Honey Calcite Crystal Heart, with a soft golden glow this gentle yet vibrant Calcite crystal is said to help spiritual development and enhance meditation. The Honey Calcite Crystal Heart is also believed to ground spiritual energy and to be great for healing making it a great gift for anybody.


Green Aventurine Crystal Heart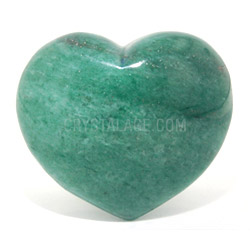 Aventurine is a member of the Quartz family and is believed to be excellent for balancing the heart, acting without turbulence and enhancing self esteem. Other qualities of the Aventurine crystal are that it is said to help to reinforce decisiveness and amplify leadership qualities. Those who suffer from anxiety and fear are also said to benefit from the Aventurine Crystal.