A wonderful way of surprising somebody is by treating them to one of the beautiful Crystal Points, great for both healing and mineral collectors. Many crystals form in naturally symmetrical points, some of these are left natural and others are polished to a high glossy finish. Crystal healers believe that the crystal points can focus energy and be used as healing wands. You can get all types of crystal points from amethyst and citrine to quartz.


50mm Tanzanite Aura Quartz Crystal Points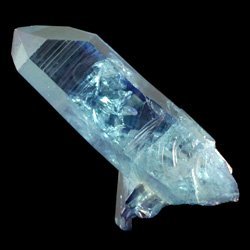 Revitalise your home with this energising 50mm Tanzanite Aura Quartz Crystal Point, said to protect the Chakras (energy points of the body). The Tanzanite Aura Quartz Crystal is made by enveloping clear quartz with indium and gold, believed to be excellent at helping to achieve a combination of intuition and communication. This particular 50mm Tanzanite Aura Quartz Crystal Point is a one-off piece, showing the exact product you will receive.


Large Natural Amethyst Point
With this beautiful Large Natural Amethyst Point it is believed that you can heal both the body and mind. The Natural Amethyst Point is thought to be very soothing and great for psychic and spiritual development. Those suffering from bereavement or emotional trauma are often recommended to use the cleansing energy that an amethyst point is believed to have. You can use the Large Natural Amethyst Point for meditation or as a wand to direct energy to certain points. Each Large Natural Amethyst Point is unique, making them a lovely sentimental personal gift item.