To add a luxurious touch to your outfits, Crystal Pendants are a great way to impress and make you look fabulous. Crystals are widely believed to hold certain benefits to the wearer, whether it be to promote happiness, increase calm or bring good luck, a Crystal Pendant is a great way to behold these benefits as it will be with you all of the time you are wearing or close to it.
Amethyst Square Crystal Pendant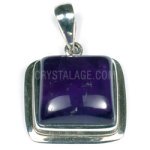 This lovely rich coloured Amethyst Pendant will give an edge to your outfit. The crystal has a great richness to it and looks great against the striking silver that surrounds it. Amethyst is a healing crystal and is said to bring balance to life and be soothing to the mind, helping to achieve spiritual wisdom. This Amethyst Square Crystal Pendant is a one-off piece, so you will know you have a unique Amethyst Crystal Pendant.


Astrophyllite Wedge Crystal Pendants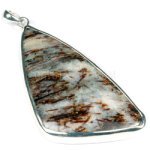 Enjoy the immaculate detail in this Astrophyllite Wedge Crystal Pendant. The camouflage type pattern means that you can wear Crystal Pendants like this with any item of clothing. The Astrophyllite crystal is a grounding crystal and is believed to bring peace and protection as well as improved self esteem. This Astrophyllite Wedge Crystal Pendant is a one-off piece, so what you see is exactly what you will get.
Carnelian Silver Rim Oval Crystal Pendant
Brighten up your day and look with this marvellous bright glowing Red Carnelian Oval Crystal Pendant. Enclosed in a luxurious shiny silver rim, the deep Carnelian Crystal looks great with a variety of fabrics and will add depth to your style. The Carnelian Crystal Pendant is believed to bring passionate energy and renew the spirit.