Amber is a beautiful stone and here at Crystal Age we have recently expanded our selection of fine amber jewellery. We now have a much wider selection of amber pendants and a new range of amber earrings that make wonderful gifts. We also have more different colours of amber, including elegant green amber and gold-flecked varieties. Amber is found in many colours but all the varieties have a richness about them that looks very glamorous. Amber jewellery seems to glow when the light hits it and gives you a wonderful look.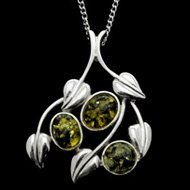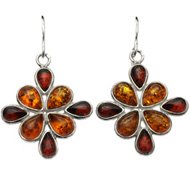 Benefits of Wearing Amber Jewellery
Amber has a unique place in crystal healing because it is not a mineral but an organic substance. As the fossilised resin of extinct trees, amber is very different to other crystals. It was the first precious stone described in human history and has been used as a protective amulet for at least seven thousands years. Amber is believed to bring you good luck, happiness and an optimistic, sunny nature. It is also said to have a powerful healing and cleansing power that can help joint problems, improve wound healing and absorb pain. Amber is aligned with the Solar Plexus chakra and the star signs Aquarius, Taurus and Leo.
Benefits of Wearing Green Amber
Amber is found in many colours, of which green is one of the most attractive. Experts believe that green amber is formed when resin fell onto mineral deposits or volcanic ash. It makes beautiful jewellery and has its own set of healing attributes. Green amber is said to have a bright energy, like new sap rising in Spring. It is said to clear the heart chakra and fill it with love and joy. Green amber is also associated with wealth, fulfilment and empowerment. It is aligned with the same star signs as golden amber but it connects with both the Heart and Solar Plexus chakras.