Fluorite is a beautiful crystal with a great range of healing properties. There are many uses for fluorite crystal, as its healing powers encompass the physical and spiritual spheres. Fluorite is found in many different colours but most commonly occurs in shades of green and purple with clear bands. Many different colours can be found in the same stone, making it a very attractive crystal for jewellery and carvings.
Fluorite crystal is believed to cleanse and stabilise the aura, while absorbing and neutralising both stress and negative energy. It is associated with clarity and believed to function as a learning aid – it can be used to increase concentration, self-confidence and good decision making. It is said to encourage positivity, balance different energies and improve balance in both an emotion and physical sense. On a physical level, fluorite is believed to boost the immune system and stimulate cell regeneration, particularly for skin, respiratory system and self-healing. It is said to strengthen bones and alleviate nerve-related pain. This means that is can be very useful for the treatment of rheumatism, arthritis, spinal injuries and shingles.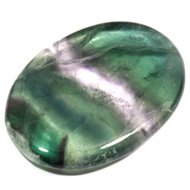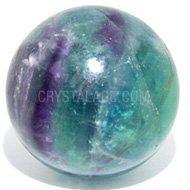 Blue Sky Fluorite Crystal
Blue sky fluorite is a rare variety of fluorite found only in the USA. It has many additional healing properties and affects all the chakras. Blue sky fluorite is said to clear the Throat chakra and support the Heart chakra. Because its primary alignment is with the head, throat and heart chakras, blue sky fluorite has a lightness to it that is ideal for transformational and ascension work. When someone is feeling overwhelmed, confused or depressed, blue sky fluorite is believed to clear away the mental clouds, bringing clarity, inner expansion and a fresh outlook. It is associated with optimism and enlightenment, making it a wonderful crystal for your personal spiritual journey.