One of the most beautiful gemstones is blue opal, considered to be an emotional healer it's not merely the surface of the crystal that is mesmerising. Sometimes communication can be supresssed through lack of confidence, blue opal is said to enhance communication and has also been used for help when past-life experiences or injuries affect present life. You can enjoy the beauty of blue opal in several forms uplifting your home and mood, each of which also make lovely gifts for others.


Blue Opal Crystal Jewellery
19mm Silver & Blue Opal Crystal Teardrop Pendant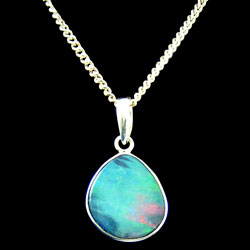 The colour of this wonderful 19mm silver & blue opal teardrop pendant is tranquil and fresh. Featuring a bright Mediterranean ocean blue, the shimmering effect of the blue opal looks simply dazzling in the light and is compliment well by its solid silver setting. This silver and blue opal teardrop pendant is extra special as it's a one-off piece, the natural opal crystal has an uplifting energy no matter what you wear it with and will suit all skin tones. The healing benefits associated with this gorgeous blue opal pendant are increased self-confidence, self-expression and optimism.


16-19cm Blue Opal Crystal & Silver Gemstone Bracelet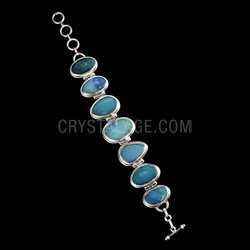 You can buy this wonderfully made 16-19cm blue opal crystal and silver bracelet as a gift for a special occasion, or simply to re-vamp your own jewellery collection. The shade of light blue opal gemstones in this bracelet add charm and colour to both dark and light clothing. Some people believe that wearing blue opal jewellery encourages happiness, warmth and love, if nothing else it will certainly shimmer giving a mystical aura to your look.


Blue Opal Crystal Ring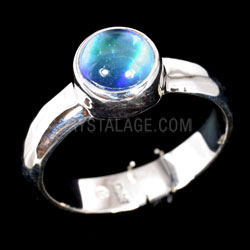 For a simple yet beautiful look, try this sturdy silver cased blue opal ring for size. A smooth round finish to the ring provides a soft elegant touch to evening wear as well as brightening up daytime clothing. The blue opal used was discovered in the furthest region of Mintabie, Australia and the sterling silver ring it is set in is available in UK size Q, USA size 8.


Other Blue Opal Crystal Products