Show your loved one how much you care with the beautiful range of crystal hearts available. You can buy individual crystal hearts or a special gift set where the crystal heart comes in a black heart shaped box, beautifully presented, they can be kept in boxes for safe keeping, or placed around the home. There are many different stone types of crystal hearts to choose from, so you can pick one according to the recipients birthstone, favourite colour or other sentimental factor.
4.5cm Poppy Jasper Crystal Hearts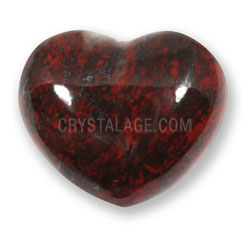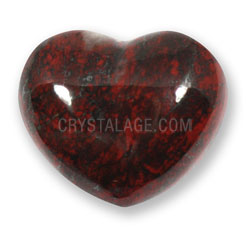 The deep romantic red of this 4.5cm poppy jasper crystal heart is a lovely way to show a loved one how much you care. This 4.5cm poppy jasper crystal heart has superb natural markings displayed very clearly, these markings in conjunction with the warm red tones look very sophisticated. Poppy jasper is said by crystal healers to energise the spirit, increasing motivation and the inner strength it takes to achieve goals.
Rose Quartz Crystal Hearts Gift Box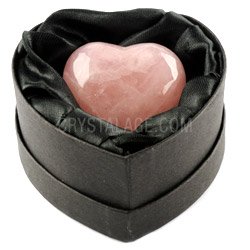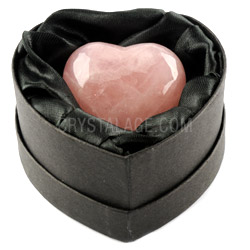 Here is one of the crystal hearts gift boxes you can purchase, the rose quartz crystal heart gift box makes a charming gift for someone close to your heart. The soft and tactile shape of the rose quartz crystal heart looks stunning in the lined gift box and can be given as it is, with no need to wrap. Rose quartz is considered to be the stone of love, making it a compassionate gift, believed to be emotionally supportive.