Perhaps you are a crystal collector, healer or maybe you just love the beauty of them, whatever fascinates you about crystals you can enjoy them at their best by means of energy domes. These energy domes are transparent domes filled with your chosen crystal, packed tightly the combined power of the crystals is said to be strong. Depending on which crystal you choose, you can use energy domes for a number of different reasons including everything from encouraging love to making your office look cool.


Carborundum Energy Domes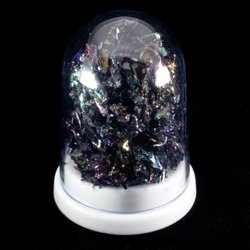 This lovely carborundum energy dome is a good way to bring positive energy into your home or office. It is said that in each carborundum energy dome the crystals radiate and emanate their energy in a concentrated fashion. Carborundum is a man-made crystal and it has a lovely rainbow effect to it, which reflects in the light. Many people use carborundum to encourage mental activity, motivation and concentration. Those who suffer from Alzheimer's, headaches and eyestrain related to computer use find carborundum very helpful in blocking harmful electromagnetic radiation.


Other Energy Domes