If you are looking for some special Gemstone Gifts, there are a variety of lovely jewellery sets featuring gorgeous Gemstones from Crystal Age to choose from.
These Turquoise Chunk Gemstone Earrings are bold and bright, perfect for completing an outfit. Hung from pure Mexican silver, these gemstone earrings have been lightly polished to really bring out the colour in these large chunks of turquoise. As you move when wearing these earrings the light will enhance the stones. Also available are coordinating turquoise bracelets and pendants. These chunk earrings are ideal as a gift or special treat.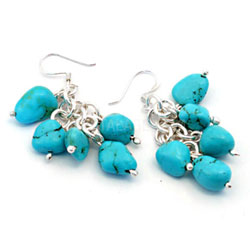 For a hint of sophistication this Pink pearl jewellery set will do the job. The sweet gemstone earrings complete the look with a soft, romantic sheen that will seemingly glow when in the light. This very light and stylish set is sure to compliment any outfit. Natural pearls may vary slightly in diameter; this is a reminder that what you have are unique gemstone earrings, bracelet and necklace.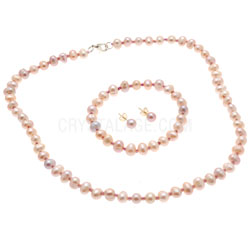 For autumn what better gemstone earrings, necklace and bracelet to show off than this Carnelian Jewellery Gift Set. Tumbled crystal nuggets cleverly create a radiant and warm aura. Carnelian is a crystal used for passion, courage and balance so is great to wear wherever you may be. The volcanic colours in this set enhance vibrancy and confidence.