Own your own Crystal Carvings, hand carved from polished gemstones. Each crystal carving has been hand polished and carved with fine details and features. Crystal Carvings are available in a variety of birthstones and make fantastic gifts.
Opalite Celestial Angel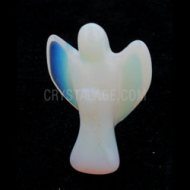 Enjoy the protection from your own guardian angel with these beautiful hand crafted Opalite Angel Figurines. These Crystal Carvings look wonderful in a collection as well as on their own. Opalite is believed to be a stone of love to faithful lovers, alleviates depression, soothes nerves and brings serenity. You can personalise your crystal angel by birth stone, making it a perfect gift for someone special.
Chevron Amethyst Chinese Dragon Crystal Carving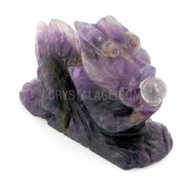 These cute little Chinese Dragon Crystal Carvings are a great addition to any crystal collection, or Chinese Dragon lover. This fine chevron amethyst dragon clasps a crystal sphere in its mouth, believed to help channel positive energy. Chevron Amethyst is such a deep purple colour that it almost appears opaque. Chinese Dragon Crystal Carvings make great gifts for those born in the year of the dragon.
Blue Howlite Sitting Buddha Crystal Carvings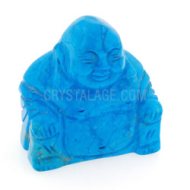 Carved from Blue Howlite, this vibrant Sitting Buddha Statue has fantastic detail. Buddha figurines are believed to inspire us to develop our inner qualities to achieve happiness and the laughing Buddha is said to spread joy wherever he is. You can even rub your Buddhas belly to bring you luck and joy. The Crystal Carved Buddha makes a great gift and is available in different birthstones.